Mar 20, 2011
Posted by Daddy on Mar 20, 2011 at 11:26 pm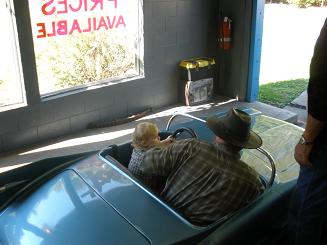 Weeble Be Good
Troy Eckhardt
Deep down Louisiana
Do you remember, Weeble?
close to New Orleans
That trip we took
Way back up in the woods
in that beautiful blue Cadillac
among the evergreens
with the shiny chrome?
There stood a log cabin
The wind in our hair
made of earth and wood
and the Burma Shave signs?
Where lived a country boy
Our warm flannel shirts flapped
named Johnny B. Goode
and the friendly bridge tender waved.
Who never ever learned
Life was fine and the nostalgia was sweet.
to read or write so well
Though not as sweet as it is to me now.
But he could play the guitar
Now I live for the future time
just like a-ringin' a bell.
when we'll ride together again.
Go Weeble Go.
No Comments
| Category:
Poetry